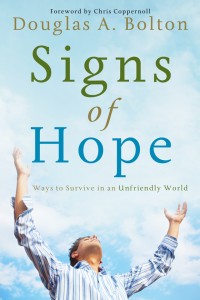 Signs of Hope: Ways to Survive in an Unfriendly World by Douglas A. Bolton
This is an award winning book, that was a runner-up in the Marsocial Author of the Year Award. It also received a national award from the Reader's Favorite Awards.
It is a survival manual for living in a troubled world. Signs of Hope reaches out to all those who seek answers to questions like, why does God allow bad things to happen; when will I find peace, and what is my purpose in life? This story of author Doug Bolton's journey from extreme despair to a close relationship with God will encourage those who experience anxiety, fear, depression, hopelessness, addiction, self-doubt, and failure. Each chapter begins with grassroots words of wisdom found on bumper stickers and ends with a personal application that points the reader toward spiritual and emotional maturity. Often funny or ironic, Bolton's comparison of real-life challenges with bumper sticker wisdom prompts a stronger, healthier spiritual outlook on life. Purchase the book now below.
Price is $15.99, plus 2.35 shipping.
You can also order it on Amazon as an e-Book at http://www.amazon.com, for $2.99.
 "Signs of Hope" price 15.99″